Our Africa adventure began with a late start due to vagaries of the weather over Atlanta where we had to spend the night and get on another plane for Johannesburg the following day. We made good use of our unwelcome delay and visited the impressive Martin Luther King Jr. National Park and listened to his inspiring speeches and sermons as we wandered around the grounds.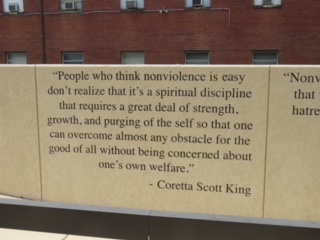 It's June 12th. By luck and perseverance all seven of use were able to get a seat on board Delta Airlines' once daily 16 hour flight to Johannesburg. Ellen had found us lovely lodging 20 minutes from the airport. We stayed in thatched roof cabins surrounded by lush vegetation.  For dinner I ate ostrich meat and vegetables, both surprisingly delicious.
It's June 14th. At last we're on the final leg to our destination—Maun, Botswana, where our safari begins. I turned 70 today. Hard to believe. I never imagined I'd make it this far, given my history.
June 15th, our much anticipated departure day into the bush in the northern part of Botswana called The Okavango Delta where there is a heavy concentration of wildlife, including over 450 species of birds. The Okavango is the largest inland delta in the world. We will be camped on the eastern border of the Moremi Game Reserve.